Cannabis fashion is starting to appear in major runway shows and on top models. It may not be mainstream yet, but it is well on its way to taking the world of high-fashion by storm.
Weed has always been able to win over new converts. This stems from cannabis' innate uplifting potential, as well as from activists advertising their support of the plant. But simply supporting the substance isn't enough. 20th-century cannabis prohibition gave birth to a passionate subculture of weed enthusiasts who hold the distinctive image of the marijuana leaf in high regard. As such, it has graced innumerable t-shirts and other garments.
Although weed in fashion has long existed, it was only in recent years that it made a splash in the world of high fashion. As far as trends go, cannabis is definitely "in." Now, as celebrities and other creatives appear in magazines wearing weed apparel, the worlds of art and cannabis are more closely-knit than ever.
THE FUTURE OF CANNABIS-INSPIRED FASHION
Wearing cannabis-inspired clothing has always been a statement. Today, the look is being refined and updated to meet a new generation of consumers and advocates. As a result, cannabis fashion is reaching new heights. Like a tempered version of the 90's "heroin chic" look popularised by Kate Moss, weed as "look" has a more positive and community-oriented impact on the fashion community. What does the future of wearable weed look like? As more comprehensive legislation is passed allowing for cannabis use and sale, the movement is likely to continue its ascent.
WHAT IS ON THE MARKET?
Products made from hemp have been around for hundreds of years. Now, they are even more widely available. Hemp is a fibrous, structurally sound material in its own right, making it ideal for constructing garments. Collections made from hemp have been appearing with greater frequency in fashion shows run by prestigious houses. While Project Runway may not have featured hemp (yet), look for it soon. After all, this is a show that once forced its contestants to design couture pieces out of burlap.
Then of course, there are several brands releasing sports and leisurewear, exhibiting some kind of cannabis-friendly logo or statement at the forefront. From tank tops to socks, these items are wildly popular, inspiring designers to elevate cannabis fashion to new levels of artistic progression.

JEWELLERY
Other popular categories of cannabis-themed merchandise include accessories and jewellery. Everything from earrings and bracelets to pens and tie clips have undergone the weed treatment.
Cannabis jewellery has taken Hollywood by storm. Nowhere is this more evident than in the work of designer Jacquie Aiche. Founded in 2007, her Sweet Leaf motif jewellery is lauded by celebrity clients for its aesthetic and classy cannabis symbology. With famous adherents that include Rihanna, Kendall Jenner and Bianca Barnhill, these pricey accessories have already debuted at the White House. A snakeskin clutch from this collection can set you back an astonishing $2,000!
Cannabis paraphernalia has also received a 21st century makeover. This has culminated in high-quality accessories, such as lighters, vaporisers and of course, glassware. Even more popular are items that serve double duty as functional pieces. Take for example the headline-making grinder-necklace released by uber-hot fashion label Vetements in 2016.
CANNABIS COUTURE
Cannabis leaves used thematically in clothing (or included in the fabric) have emerged with confidence in the last few years. Moschino creative director Jeremy Scott introduced the green-washed Adidas logo in 2012. Mara Hoffman debuted a spring collection in 2015 featuring cannabis leaves woven into dresses and trousers. Alexander Wang followed suit, incorporating black and white designs into his fall 2016 collection.
Swim Suits
Whether celebrities or social media influencers, cannabis-inspired swimsuits were made lauded all through the year. Throughout the summer, cannabis swimsuits were spotted on the beaches, lakeshores, and pools. A swimsuit is a must-have outfit in your wardrobe if you are beach enthusiast and love bathing in the sun. A cannabis swimsuit is the most trending bathing suit you can get today.
Snapback Hats
Snapback hats never get out of the trend. A versatile piece of men's accessory, even snapback hats are also drenched in the cannabis trend. Guys who love to sport snapback hats can now get it in hemp style. These cannabis snapback hats can be worn throughout the day and fit almost every outfit effortlessly. Not just the hip hop star or wannabe stoner, even people with a distinctive fashion sense are sporting the cannabis snapback hats with confidence.
Tank Tops
When it comes to the most popular cannabis apparel, tank tops would top the list. Tank tops are the most preferred outfit to beat the hit. Last summer was all about embracing the cannabis style and hemp inspired tank tops were the center of attraction all through the summers. These tank tops are lightweight, durable and go well with every occasion. Be it a Sunday brunch or getaway with your friends, sporting a cannabis tank top will give you unique. Both men and women can sport these tank tops for a relaxing and soothing experience.
Maxi Cardigans
Apart from tank tops, fashion enthusiasts are also going crazy over the cannabis-inspired floor-length silk cardigans. These maxi cardigans are ideal to go out on cool summer evenings. Cannabis maxi cardigans were popular apparel this summer and everyone was in love with the unique hemp style patterns that gave the cardigans a distinctive look. Maxi cannabis cardigans soon become a must-have in the summer wardrobe.
Hoodies
Popular cannabis apparel that was highly popular among the fashionistas were the weed hoodies. Giving an uber-cool look with the quirky hemp styled designs, hoodies were bold, badass yet imparted confident look. Ideal for both casual and occasional wear, cannabis hoodies remained in the limelight throughout the year.
'When tigers used to smoke'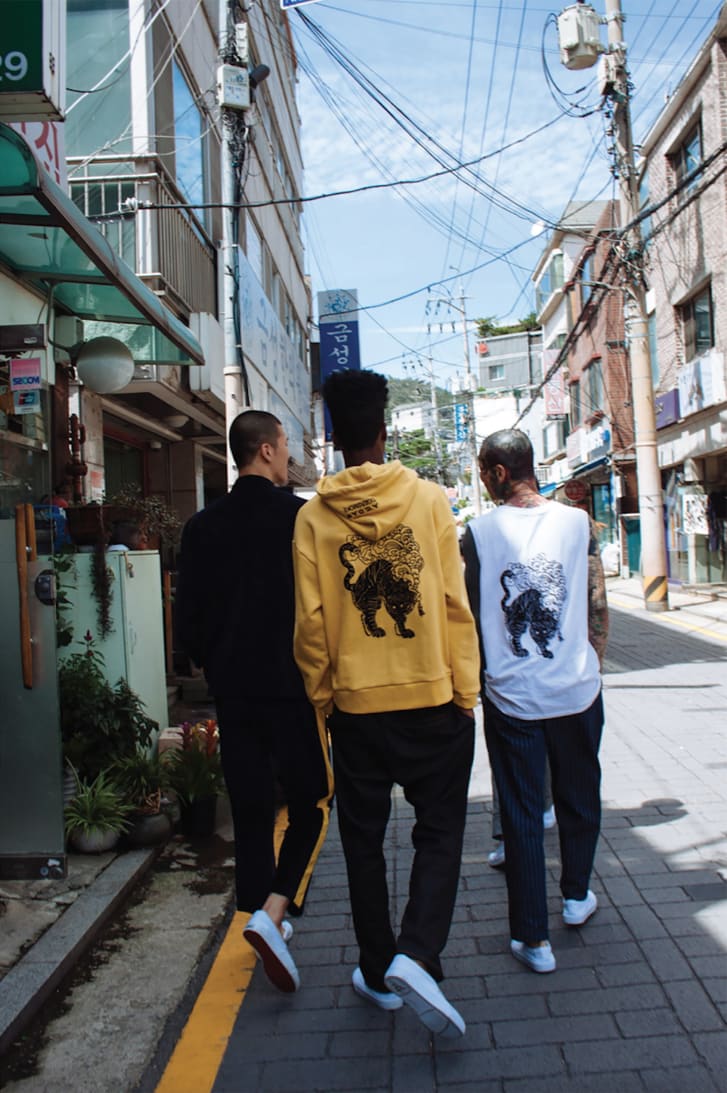 Far from stereotypical stoners — the duo is high-achieving, and have big ambitions for the brand. Cindy, who handles Sundae School's operations and public relations, studies entrepreneurial management at the University of Pennsylvania. Dae, the creative force behind the brand, graduated with a mathematics degree from Harvard.
Dae's designs combine Korean history with the imagery of religion and cannabis culture. One illustration features a portrait of the 15th-century king, Sejong the Great, with a traditional smoking pipe (known as "gombangdae"). Another features a white tiger — of many a Korean legend — surrounded by white clouds.
"The Korean idiom 'back when tigers used to smoke' is how every Korean folklore (tale) begins," explained Cindy, on a phone call. "(It's) just like 'once upon a lifetime' in Western fairy tales."
The brand played on the Book of Genesis in its first collection — organizing its lookbook into various chapters and featuring quotes like "God made the world high" before he "blessed the seventh day, and called it Sundae."
'Yellow stoner revolution'
The Lims' goals for the brand transcend fashion. In particular, Dae wants to offer visibility to Asian marijuana users.
"As Asians, especially as Asian Americans, there's no denying that there is a lot of privilege associated with our lives," he said. "But that being said, our voices are still muted a lot of the time because of the petty notion that we are the model minority — the doctors, lawyers, college-educated or the math-studying.
By defying Asian stereotypes, the siblings hope to begin what they call a "yellow stoner revolution."
"We are just one part of the larger 'cannabist' fabric of America," Dae said. "We are representing one of the (lifestyles) that stoners can acquire or embody. And breaking that singularity is something that we are most excited about."
According to a 2017 reader survey by industry news outlet Marijuana Business Daily, more than 80% of American cannabis businesses owners are white. The same study found that just 2.4% identified as Asian. Dae recalls facing discrimination — not for being a marijuana user, but for being a Korean American one.
"At the end of the day, there is more than one type of smoker and America is a beautiful example of that," he said. "It's a multicultural community of people, and it's a multicultural community of stoners.
"We want to change the thoughts of those who think that marijuana is just a devil's drug," Cindy added. "But also want people to know more about Asian American culture and to notice us as equals, not just in law but also in inclusion and in (the) media."