Use these tips to speed up your grow at any point between germination and harvest. Learn practical ways to make things go faster in either veg or flowering, inside or out. Don't be surprised if one of the tricks for outdoor growers is a bit shocking. We weren't expecting it either!
There are plenty of reasons you might want to harvest early. Perhaps you're moving house and have to pack up your grow room, or you grow outdoors in a northern country where the autumns are short, cold, and brutal. Perhaps you're low on weed and hate to fork over your hard-earned cash in exchange for your meds. Maybe you live in a not-so-cannabis-friendly place and you think LEO is onto you.
No matter the reason, there are proven ways to rush things along, whether you're growing inside or out. Still, you might have to compromise yield and potency in exchange for speed. Let's take a look at what you can do to grow cannabis as fast as possible.
TIPS FOR FASTER INDOOR GROWS
Growing indoors is almost always faster than growing outdoors, mostly because you can control the lighting. You can tweak a few other things in the name of speed too.
GROW AUTOFLOWERING CANNABIS
As a general rule, autoflowering cannabis will mature at a faster rate than photoperiod strains because they contain a percentage of ruderalis genetics. Ruderalis evolved naturally in cold places like Siberia where the summers are very short. They had to develop the ability to produce flowers and seeds quickly to ensure the survival of the species.
Most autoflowering hybrids will start to flower two weeks after germination, and can be harvested about 7 weeks later. Quick One, for example, completes its full life cycle in 8 weeks and still yields up to 150g/plant.
Note that breeders are now reducing the amount of ruderalis they use to create autoflowering hybrids in order to increase yield and potency. As a result, some may take a little longer to be harvest-ready, or require a 20/4 or 18/6 light cycle for flowering.
TAKE PHOTOPERIOD STRAINS STRAIGHT TO FLOWER
You can force photoperiod strains to mature almost as fast as autoflowering cannabis by putting them in 12 hours of darkness every day from the time they germinate. It works, but your plants will not get nearly as big or yield as much as if you had allowed them to veg for the normal 4–6 weeks.
If you want to use this method, you can start with either clones or seeds, but you'll need to grow a lot of them in sea of green (SOG) fashion if you want enough herb to hold you over to your next harvest. Most plants will be dwarf-sized and only yield 28g or less each.
VEG WITH LIGHTS ON 24 HOURS A DAY
This is a hotly debated topic, but you can leave your lights on 24/7 and your cannabis plants will be just fine. Unlike some other plants, they don't need a dark period each day to be healthy. In fact, they'll stay shorter, grow faster, and get bushier under a continuous light period.
By keeping the lights on all the time, you may be able to cut your veg time by a third and still have a good-sized plant by the time you start a forced bloom. If you try this technique, keep a close watch for deficiencies. If your plants look like they're getting sick, reduce the wattage or hours of light to help them recover.
Start the flowering phase as soon as possible
When growing cannabis indoors from ordinary seeds, the grower has to decide when to switch the plants from the vegetative phase to flowering. This is usually done by altering the lighting schedule. Reducing the total hours of daylight stimulates the plants to produce buds and will start the flower stage. This is usually about two to three months after sowing, depending on the variety.
However, it is technically possible to make your seedlings produce buds pretty much as soon as they sprout and bypass the vegetative stage altogether. Northern Lights is a variety with a flowering time that lasts for two months. If seedlings produce flowers as soon as they germinate, it is theoretically possible to harvest in as little as three months – two months quicker than the average grow time of five months. However, the yield will always be much less simply because the seedling will not have had enough time to grow stems needed to produce buds.
A practical solution, if you are really impatient, is to cut short the vegetative phase. The yield will be less but much more than by entirely skipping the vegetative stage. Let your plants vegetate for a shorter period than that accepted in order to switch to flowering more quickly. The yield will certainly not be extraordinary, but always more than by making the plant flower from the sowing stage. It could take three more weeks, for example, in which case you will be able to harvest after about 14-15 weeks.
You could also give your plants a full twenty-four hours of daylight during the vegetative phase to encourage leaf and stem growth. This will enable you to reach the flowering stage a little sooner without compromising so much on the eventual yield.
Speeding up the flowering phase
You can speed up the flowering phase by one to two weeks by using a product such as Bushmaster. However, it will also stop vertical growth. The best option is to grow your plants to about the height you want to maintain while in the vegetative phase then start dosing it with Bushmaster. This can also increase yields, so it's a win-win. Be very careful, though, as this stuff is potent and can cause root burn.
Another method is to switch your plants to 10 hours of light per day, which will encourage your plants to ripen more quickly. This method works best on Indica varieties which have a shorter flowering cycle than Hazes and Sativas, as well as higher yields.
When your cannabis plants receive less than 13 or 14 hours of light a day, they will automatically start to flower. In the natural world, harvest occurs in the autumn, when the hours of daylight begin to decrease. Indoors you can mimic this and speed up the time of harvest.
Manipulating the hours of light from 13 to 10 forces your plants to produce buds much faster than they would outdoors. All strains of cannabis respond to this type of light manipulation by producing buds at a faster rate.
However, there are consequences mainly relating to growth. The buds will stop growing, which will affect the yield, although the THC content won't necessarily be affected. Plants grow during the hours of daylight so if these are reduced to speed things up, the harvest will inevitably be smaller.
Choose a fast-growing strain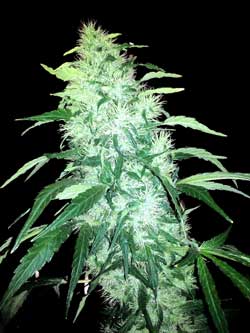 It may sound obvious, but one of the easiest ways to reach harvest quickly is to choose seeds with short flowering times. Always buy seeds from reputable and established sellers who will display growing and flowering times on their websites. The aforementioned Northern Lights feature a two-month flowering phase, while others, such as Sour Diesel need to flower for more than 2,5 months. Strains with longer flowering times generally tend to perform better outdoors because they receive more sunshine. However, varieties with short flowering phases often produce cannabis of equally good quality.
Santa Maria, Gorilla Glue and White Widow x Northern Lights are among the many cannabis varieties that flower quickly. All of these strains have a flowering phase of six to eight weeks, shaving around a month off the entire process.
It is also worth mentioning auto-flowering seeds as these switch to flowering automatically, so you don't need to worry about altering the light cycle. These strains usually take about three months to go from seed to harvest – much more quickly than non-auto-flowering varieties.
LIGHTING DURING THE VEGETATIVE PHASE
The cannabis grow cycle features two distinct phases: the vegetative phase and the flowering phase. Manipulating the light cycle during both of these phases can result in a faster pace of growth. During the vegetative phase (when plants feature only fan leaves and have not started to bloom), indoor plants are usually vegged under 18 hours of light and 6 hours of darkness per day to provide the best conditions for photosynthesis and respiration to occur.
However, by providing 24 hours of light per day, you will force your plants to remain in an anabolic state (the process of converting smaller molecules into larger molecules). This is because they will be photosynthesising around the clock and constantly using light, CO₂, and water to create glucose as an energy source to fuel growth.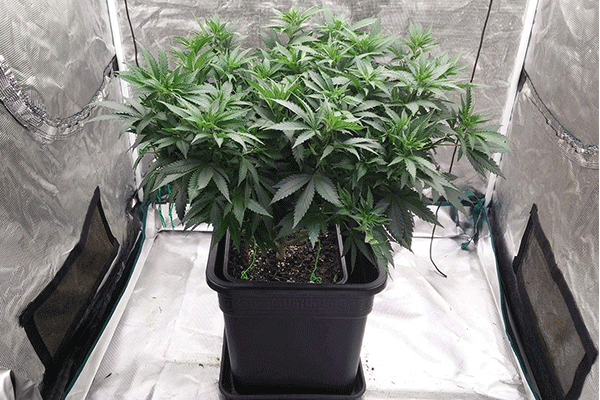 LIGHTING DURING THE FLOWERING PHASE
The light cycle will need to be changed during the flowering phase depending on the genetics being used. Autoflowering strains don't require a change, a topic we'll delve into later in this article. However, traditional photoperiod strains require extended periods of darkness to begin flowering. This trait is due to the rhythms of nature; plants evolved to begin flowering when the days begin to get shorter and the harsher conditions of autumn approach. Lack of light is a signal for them to begin reproduction.
To initiate flowering and increase the speed of the flowering phase, a light cycle of 12 hours on and 12 hours off is usually recommended. There is, however, the option to run an 11/13 light cycle, which will make your plant hurry up in fear of the approaching change of seasons. Some growers do both, starting with 12/12 at the beginning of bloom, then moving to 11/13 at the latter half of the phase.
Another trick to speed things up massively is to avoid the vegetative phase altogether and begin flowering your plants immediately after germination has occurred. This can be achieved by applying a light schedule of 12/12 immediately and throughout the entire grow cycle. Although a rapid way to produce flowers, yields will be sacrificed for speed. Plus, this trick is only compatible with photoperiod strains.