Cannabis e-liquids are the stealthiest and fastest way to get stoned. Plus, they taste amazing. Use these instructions to make your own at home! It's not as difficult as you might think.
Vaping is the new smoking. Okay, some cannabis lovers will always smoke the herb. But some users are ditching tar, carbon monoxide, and carcinogens for a cleaner hit of cannabinoids. Instead of combustion, vaporizers use convection heating, conduction heating, or a combination of both to release cannabinoids and terpenes into an inhalable vapor.
This is easier on the lungs, far more tasty, and a lot more discreet than walking around with a joint. CBD users also appreciate this form of ingestion. Because vaporizing a CBD liquid is much more enjoyable than swallowing a capsule.Vaporizers are available in both desktop and portable models. Vape pens are the stealthiest option and the easiest to carry around. These sleek and futuristic devices can vaporize both herb and extracts, depending on the model. In this article, you'll learn how to make your own stash of cannabis e-liquid to use with your vape pen.
E-liquid, otherwise known as vape juice, is traditionally a nicotine-containing product. However, cannabis users have put their own spin on things. Both THC and CBD e-liquids (with accompanying terpenes) are available, and feature a base of either propylene glycol (PG) or vegetable glycerin (VG).
PG is a colourless and odourless organic compound. It's not very viscous, which makes things easier when it comes to refilling cartridges and cleaning your device. VG is a completely natural liquid derived from plant oils. It's also odourless, yet has a slightly sweet taste. It's much more viscous than PG. It's not ideal for cleaning, but it produces thick, satisfying clouds of vapor.
Natural and artificial food-grade flavourings are also typically added to create an array of flavours—anything from candy and mint to fruits. E-liquid is then loaded into the tank of an e-cigarette or vaporizer and heated to anywhere between 90–200°C. Devices will need to be set to around 157°C to effectively evaporate THC, whereas CBD requires slightly higher temperatures of between 160–180°C.
How to make your own THC liquid? This is a common question that lot of people ask.  Doing your own vape juice is always fun and interesting.
Steps to Make Your Own THC Oil for Vaping
THC Oil can be super expensive and costly, but the benefits are so worth it.
Here is a guide on how to make THC Oil for your vape pleasure.
You Will Need:
1. 5-6 grams of high-quality bud
2. Cheese cloth
3. Two large mason jars
4. A large pot for boiling
5. Propylene Glycol
6. High Proof (190+) Grain Alcohol,
7. And a Pyrex bowl (or aluminum foil and a baking sheet). If you want exact measurements, pick up some blunt tip syringes. You will also want to be wearing rubber gloves throughout the process to protect your skin.
Make sure you don't use rubbing alcohol! Try EverClear or Alcohol instead. You'll also need a stove-top, of course, and as for your bud, you'll want to make sure that it's finely chopped before you begin.
1. Decarboxylate
– Place your finely chopped 5-6 grams of weed (or more if you're so inclined) into the Pyrex bowl and bake it in the oven at 225-250 degrees F for about 15 minutes. (Alternatively, you can use aluminum foil and a baking sheet to heat up your bud like you would a batch of cookies. When you take them out, they'll be dry and brownish.)
– The next step is to add the crispy weed to your mason jar, and then pour in the alcohol. (It should be enough to submerge the bud completely. If you want to be exact, use a syringe to add about 24 ML of High Proof Alcohol. You'll probably want to open a window during this next part to keep your room ventilated and relatively free of vapors.)
– Add about 3.5-4 inches of water to your pot, and then place the mason jar directly inside the pot.
Boil the water to a low boil and stir the bud in the jar constantly. Here you'll be trying to evaporate some of the excess alcohol. Continue to stir, watching the bud get darker. Once it's dark, remove the pot from the stove and turn it off. Let it cool.
2. Strain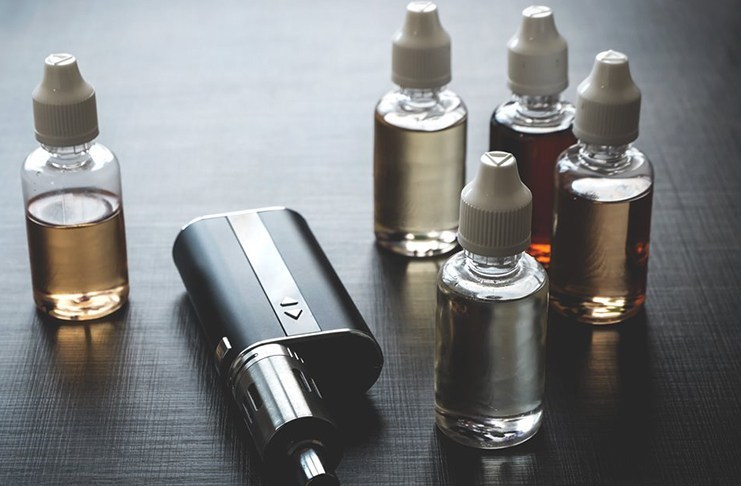 After you've evaporated some of the excess alcohol from your mixture, it's time to use your cheese cloth or another item to filter out the plant fibers from your oil. – Cover your second mason jar with the cheesecloth and slowly pour in the mixture from the first mason jar, letting the cloth catch the buds. (It may be very thick and stuck to the bottom of the jar, so use a knife or fork to get it all out. Your bud should be wet and well-saturated.) – Squeeze the cheese cloth with the herb until every last drop is out, straining it into the second mason jar. (It should produce a nice brown liquid. If you are so inclined, let the cheesecloth drip over the second mason jar for an hour or two to get everything out.)
3. Process
– In your second mason jar, now filled with liquid and alcohol, add a bit of water and put the jar back inside the pot. (This time, you will want to boil your concoction until there are about 5 ML of liquid left in the jar. You can use your syringes to measure exactly and make sure you have the right amount.) – The final step is to add 20 MG of Propylene Glycol to your mason jar.
– Remove the jar from the pot.
– Using a syringe, extract the liquid from the jar and store it in your dropper bottles. (You should have about 25 ML of THC oil ready to use.)
SAFETY IS PARAMOUNT
Making e-liquids at home is easy, but it isn't without risk. Working with hot oil can be extremely dangerous, so handle with care. Also, you must ensure that all of the ingredients you use are food-grade and certified. There's a lot of dodgy products out there, so do your research and shop with care. If you use common sense and take the right safety precautions, you'll have your own stash of vape juice in no time.