Cannabis and CBD milk are an easy way to get cannabinoids into your body. High-THC options provide a hard-hitting high that lasts for hours, while CBD milk subtly eases the mind and body. Whatever you choose, add some spices to make every sip pop!
Cannabis and cooking go hand-in-hand. It is a great way to combine a love for food with a love for your sweet green. So, for those who want to get a little creative in the kitchen, we have put together a recipe to make cannabis-infused milk – a delicious treat that can be drunk on its own, as part of a milkshake, or used as part of a larger cooking recipe. It is the cannabis perfect base.
How To Make Marijuana Milk
Does the idea of a cannabis-infused milkshake sound appealing? Well, you are going to need some cannabis-infused milk first!
You Will Need
Full-fat milk
Bruce Banner Cannabis or any strain you like,
Sieve and cheesecloth
The quantities of each ingredient will largely depend on your tolerance. As a general rule, 0.5-1g per 1/4 litre of milk will be sufficient for most. If you use more than this in a regular joint, then up the dose per 1/4 litre proportionately.
Important: The milk used must be full fat. Fat is required to bind the cannabinoids from your cannabis into the milk. Choosing a low-fat milk will be much less efficient.

Instructions
1. Grind up your cannabis into a fine powder. The finer you grind it, the better it will infuse the milk.
2. Pour the milk into a pan and place it on a medium heat so that it begins to simmer, but not fully boil.
3. Add your cannabis to the milk and stir everything together thoroughly.
4. Allow the mix to continue bubbling away for another hour, stirring every now and again. Be sure to keep a close eye on it to make sure it doesn't boil over.
5. After an hour, turn off the heat and allow the milk mix to cool.
It is important to cook your milk for an hour to ensure the cannabis decarboxylates and fully binds to the milk. Without this process, the compounds within the cannabis will not activate to their full effect – heat is required to make sure THC and the other cannabinoids do their job. You can find out more about decarboxylation and why it is so important in our in-depth explanation.
6. Strain the mix through your sieve and cheesecloth into an airtight container. This will remove the plant matter and leave you with some ready to use cannabis infused milk!
It is as simple as that! Just be sure to store your cannabis milk in the fridge, and use it before the milk's original expiry date. It is the perfect ingredient to make so many other tasty treats with, to dip cookies in, or just use as a refreshing, yet buzzing drink!
Clever ways to Use Your Infused Milk
Cannabis-infused milkshakes are awesome, but they aren't the only way to enjoy your fresh canna-milk. Now that you've learned how to make your very own cannabis infused milk at home, here are a few quick recipe ideas for infusions.
Cannabis-Infused Alfredo Sauce
Infuse a pint of heavy whipping cream (and some cannabutter if you feel so inclined) for this easy dinner recipe. To make it, just mix one pint of heavy whipping cream, ½ cup of (infused) butter, and four ounces of cream cheese in a saucepan. Melt over low heat until smooth then add ½ teaspoon of minced garlic, one teaspoon of garlic powder, one teaspoon of Italian seasoning, and ¼ teaspoon of both salt and pepper and stir until combined. Add one cup of grated parmesan cheese, stir and simmer for three to five more minutes. Toss your finished Alfredo sauce over your favorite noodles and enjoy.
CannaCreamer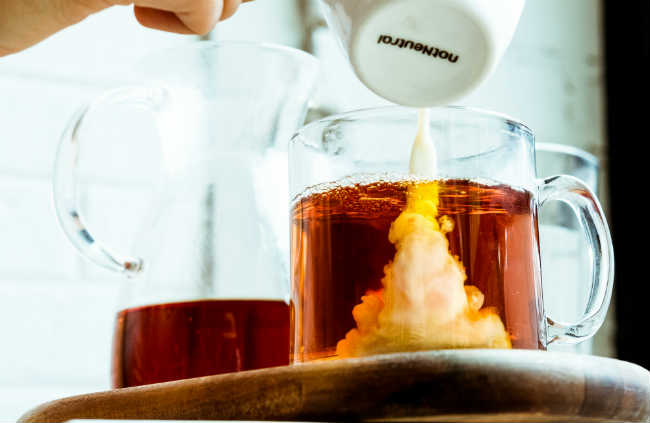 Cannabis infused coffee or tea? Yes please! photo credit
Homemade coffee creamer is easy, tasty and less complex than store-bought brands. To make cannabis infused coffee creamer at home, just mix two cups infused milk or heavy cream with one 14-ounce can of sweetened condensed milk in a large Mason jar and store for up to one week. Feel free to add your favorite flavored syrups, too.
Cannabis Queso Dip
Cannabis-infused queso is always a party hit and only requires a few simple ingredients. To make infused queso dip, just melt some Velveeta or other soft cheese into one to two cups of your infused milk or half-and-half then add your favorite flavors to taste (Ro-Tel brand canned tomatoes work well as do pickled jalapenos).
he Best Cannamilk Strains
Growers also have the option to use their own flowers when making cannabis or CBD milk. You can either create your own extracts to add into the mix, or simply infuse decarbed flowers into a saucepan of milk.
Below, check out the best strains in the Royal Queen Seeds catalogue for infusing into your cannamilk recipe. These three strains offer distinct terpene and cannabinoid profiles, so there's something for everyone.
Royal CBG Automatic offers high levels of CBG and CBD, and almost no THC. This strain will create non-psychotropic milk that soothes the body while keeping the mind clear and functional. Deep notes of vanilla infuse every sip with a sweet, sultry taste.
White Widow serves up a hefty dose of THC for cannabis lovers that like a psychotropic kick to their milk. Her THC level of 19% and high levels of myrcene induce a stoning physical high that's perfect for relaxing in the evening. Use this milk to add a trippy touch to teas and hot chocolates.
Green Gelato offers a whopping THC value of 26%. Strap yourself in as this potent lady catapults you into a long-lasting and intense experience. High levels of limonene add some mental clarity and serenity to the storm.