For nearly 10 years I've been peddling a cookbook proposal all about trifles. I haven't yet pitched a cookbook of cannabis-infused trifles, and maybe that has been the problem!
I have been told my all-trifle cookbook idea is "too niche," "too English," "too sophisticated," "too fattening." But trifles are just about the perfect dessert, combining some kind of cake, something custard-like, fruit and whipped cream.
I mean, c'mon.
Remember my recipe for a weed-infused triple-layer trifle? That dessert is legendary. But this frozen marijuana-infused trifle is a good-for-you trifle, and may your canna-butter be as lovely as the one I made from my homegrown Harley Tsu.
Weed yogurt is a delicious edible recipe. It's quickly become one of my favourites, and believe me when I tell you I've tried almost every one of them out there. The only downside to this recipe is that it's going to take almost nine hours to make.
Make sure to check out the potency calculator at the bottom of this post. It will help you determine the total mg of THC per serving.
Cannabis Infused Strawberry & Raspberry Yogurt Pops
Cannabis can be infused by adding the tincture in with the yogurt or by simply infusing the syrup with dry flower.
Ingredients
Infused Syrup
1 cup strawberries and raspberries (mixed)
1/2 cup water
3 tablespoon maple syrup
3 Grams Cannabis (decarboxylated)
Yogurt pops
1 cup vanilla Greek yogurt (14%)
1/2 cup milk
1 teaspoon vanilla extract
cannabis tincture
Directions
To make infused syrup, add all ingredients to a small pot and simmer until syrupy consistency is reached.
Strain and set aside.
Add remaining ingredients to a bowl and mix until well incorporated.
Layer popsicle moulds with yogurt, then syrup mixture. Continuing until all moulds are full.
Freeze for 6-8 hours.
Note: Dosing homemade edibles can be tricky, so the best way to test for potency is to start with one portion of a serving, wait one to two hours, then make an informed decision on whether to consume more. Always dose carefully and listen to your body, and never drive under the influence of cannabis.
One More Recipe 
I've wanted something different so I discovered how to make weed yogurt!
Nothing beats farm-fresh fuel, and we have a ton of fantastic breakfast recipes to share with you but the same old really gets tiresome, so I experimented and found something fantastic to share with you.
To make this recipe, you're going to need to make Cannabis Milk first, and you can use this for so many other edible recipes – it won't be a waste!
The recipe below guides you on how to make Cannabis Milk at home, and if you already know just skip to the next part.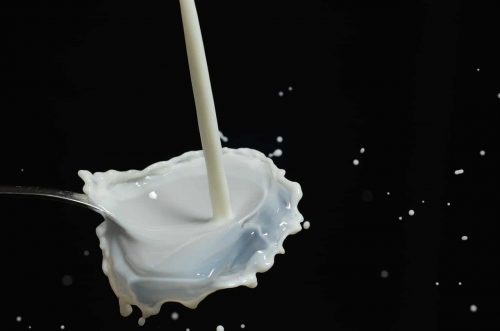 Ingredients
1/4

 

Ounce

 

Cannabis

4

 

Cups

 

Whole Milk
Instructions
Decarboxylate your weed by spreading your cannabis evenly on an oven tray And coat with aluminum foil.

Place in the oven on 240F/115C for 40 minutes, and then let it cool.

Grind your cannabis or chop it fine

Place 4 cups of whole milk in a pan on low heat. Add cannabis and let simmer on low heat for 60/90 minutes without it ever coming to a boil.

Strain through a cheesecloth

Let it cool

Is Weed Yogurt Easy To Make?

I guess I always thought that yogurt was super hard to make, and that's why I never tried it – but really?

This recipe is simple and once you've got it down, you can enjoy better breakfasts and snack time too!

I also love adding Maple Syrup to yogurt, and fresh berries too.

If I'm feeling a little feisty, I'll even throw in chocolate cacao nibs, and some sliced almonds for some extra protein, and then I throw a splash of Cannabis Milk into my Cannabis coffee too!

The Recipe – Easy & Simple!

Equipment

Non-Aluminum Pot

Mixing Bowls – large

Saran Wrap/Plastic Wrap

Dish Towel

Thermometre

Whisk

Ingredients

4

 

cups

 

Cannabis Milk

3/4

 

cups

 

Plain Yogurt

 

Icelandic or Greek – nice and thick.

4

 

cups

 

1/2 and 1/2 cream

2

 

cups

 

Heavy whipping cream

Instructions

Measure your plain yogurt and leave to relax at room temperature while you prepare the rest:

Combine cannabis milk and half-and-half cream in a large, heavy, non-aluminum pot. Heat over low and strir constantly until it comes to a boil. Remove from heat IMMEDIATELY and pour into a bowl. Add in whipping cream.

Allow to cool to 112 degrees F using your thermometre. Once it's at the right temp, slowly pour warm milk into the yogurt you were saving at room temperature, whisking constantly.

Return the yogurt-milk mixture to the bowl and stir well. Cover bowl with plastic wrap.

Wrap the bowl in a large towel so that it covers it completely.

Let it stand out at room temperature for 8 hours or until its firm and set.

You can refrigerate yogurt for a few hours to chill and then serve when ready!

Add fresh berries, sliced almonds, and some Canadian Maple Syrup if desired.

Cannabis infused Greek yogurt recipe

There are so many unique and delicious marijuana edible recipes out there, but this one takes the cake and is the very best cannabis infused yogurt I have ever tried. Though this recipe does call for a step called decarboxylation, it is only necessary for those who are seeking a euphoric high. If you are hoping to indulge in some inactivated cannabinoids or would like to try a batch marijuana free, that will work too.

My favorite part about making your cannabis yogurt from scratch is that you can decide what fruit flavors go into it. Spice it up in a cup with a little oatmeal or protein for a nutrient packed snack or indulge in your sweeter side and add a few shots of chocolate flavoring for good measure. No matter what mood you are in, this recipe can be altered to suit it.

Makes: 5 servings

Takes: 1 day and 12 hours

Ingredients

4 cups of homogenized milk (3.25%)
6 grams of cannabis
1 packet of yogurt starter

Tools

1 frying pan
1 whisk
1 food thermometer
2 strainers
1 small bowl
cheesecloth
yogurt machine
double broiler
weed grinder

Instructions

To begin, you will need to complete a process called decarboxylation. This is where heat is used to activate the THCA inside of a marijuana plant. Since THC is not present until this process occurs, it will not get you high without it. Spread the marijuana buds across a cookie sheet that is lined with parchment paper and bake it at 340 F for 24 minutes.
Once the cannabis buds have been activated, they can be ground up using a weed grinder and set aside.
Prepare the broiler for cooking by adding the called for amount of water.
Add both the milk, and the decarboxylated marijuana grind to the broiler, and heat it over medium heat.
Use a food thermometer to track the climbing temperature inside of the broiler. Once it reaches 180 F, you will want to turn the heat to low and try your best to maintain that temperature for 25 minutes. It's also a good idea to stir the mixture during this time so that it does not burn.
Fill a kitchen sink with three inches of water and place the broiler in it to cool for five minutes.
Strain the cannabis plant matter using a strainer lined with one or two layers of cheesecloth.
Add three tablespoons of the white milk to the yogurt starter packet in a small bowl to dissolve it.
Add the liquified starter to the incubation chamber along with the liquid and set your timer to 4.5 hours.
Once the yogurt mixture has finished, it must be refrigerated for a full 7 hours to set.
Now you can strain the cheese chunks by using a strained lined with cheesecloth.
You will want to leave the cheese pieces in the strainer and set it inside of a bowl in the fridge for 24 hours.
After 24 hours have passed, you can scoop the drained Greek yogurt into cups, and top or serve immediately.