Well, we all can have a normal joint but the combination of marijuana and, for example, chocolate, can let you get some new experience and feelings, enjoying the interesting taste. We have already written about edible cannabis, with the main advantages and basic things, such as decarboxylation of weed, but now we want to share with you some easy cannabis edible recipes and tips for cooking with cannabis. In general, using weed in cooking is super easy, to get started, go to the cannabis club in Barcelona and choose the strain you want to use, be sure to check with budtender the dosage of THC. Now you need to do some preparation:
to decarboxylate it
and then, according to the recipe, make cannabis oil, cannabis butter or flour and after you can cook whatever you want.
One should note here that sweets are the most popular type of food which could be cooked, but the oil you can use for pasta, vegetables, salads, and many other dishes. Here we will share with you the most simple weed recipes, and for some of them, you just need 1-2 ingredients and a bit time to cook.
The first thing that needs to be said is that you need to be very careful with weed dosage when you are cooking: just try a small amount to understand what will be better for you. We will add the information about THC in every recipe, but for not being too high it is important to not eat all the food in one moment.
In general, the formula is: 0,5 g of cannabis with 10 portions of edibles contains 50 mg of THC and each portion will have 5.00 mg. But it is real with conditions that we use medium quality marijuana and this is average effect according to the average index. So, when you are following any hemp recipes, be sure that you understand the final amount and be ready to try for the first time the small piece to see if it is strong for you or it is okay. We are sure you will enjoy your new way of using weed with the food!
Let's see the list of weed recipes, which you can easily do at home even today!
amazing cannabis chocolate
fun cannabis gummy jelly. By the way you also can try Faded Party Pack Gummies a

nd you can save time on cooking.

super tasty weed chocolate cake
cannabis tincture
easy and delicious cannabis cookies
Now you know that making food with weed is not difficult and you even don't need to have some special skills or cooking utensils at home. Just relax and have a lot of fun!
Join our community to find out all the news about cannabis, to know where it is possible to have the best weed edibles in Barcelona and how to cook easy and tasty weed recipes.
How to make cannabis chocolate?
Who loves chocolate? Put your hands up in the air! Almost everyone:) Let's cook the easiest edible: chocolate weed.
First and foremost it is super tasty and, what is more, you don't need special skills, because it is available even for the beginners.
Second it will be the best way to try to cook something with a weed without a lot of effort but with a great result.
Are you ready for the weed chocolate?
Ingredients:

Directions:

Dark chocolate or milk – 3 bars

Decarboxylated cannabis – 2 gr

Nuts, dried fruit or other additions for the chocolate (optional)

Melt the chocolate. You can do it in a microwave or to put it in a heat-proof dish on top of boiling water.
Put your decarboxylated cannabis into the chocolate and stir it.
When it all melted together, you can place it into a mold. Add vanilla or dried fruits if you want.
Check carefully if there are not any air bubbles  (just tap on the table to be sure) and put into the fridge to refrigerate.
Dosage
Usually, we use at the recipes cannabis oil or butter but chocolate contains cocoa butter so we could put weed directly. As for weed chocolate dosage, roughly every gram of weed contains 150 mg of THC, so in one bar it will be 100 mg of THC. So don't eat it all, please, just try some pieces to see if it is strong for you or not and if not, after 1 hour, not earlier, you can try to eat more.
How to store cannabis chocolate?
The best option is to wrap edible weed chocolate in the foil and store in a cool, dark place because chocolate very easily absorbed all the smells which are around, so if you put it in a fridge or a shell with spices without covering, it will taste after some time with all the things around.
In general, eating chocolate is a healthy and tasty way of using weed because it doesn't touch your lungs.
Besides, you can experiment with the taste to add nuts or aromas to make the chocolate with your taste. Also, it is ridiculously easy to make, how you can see, no special equipment, neither list of the products that you need to go and buy to a supermarket.
Chocolate is good antistress food and with weed, it increases its benefits!
How to make cannabis butter?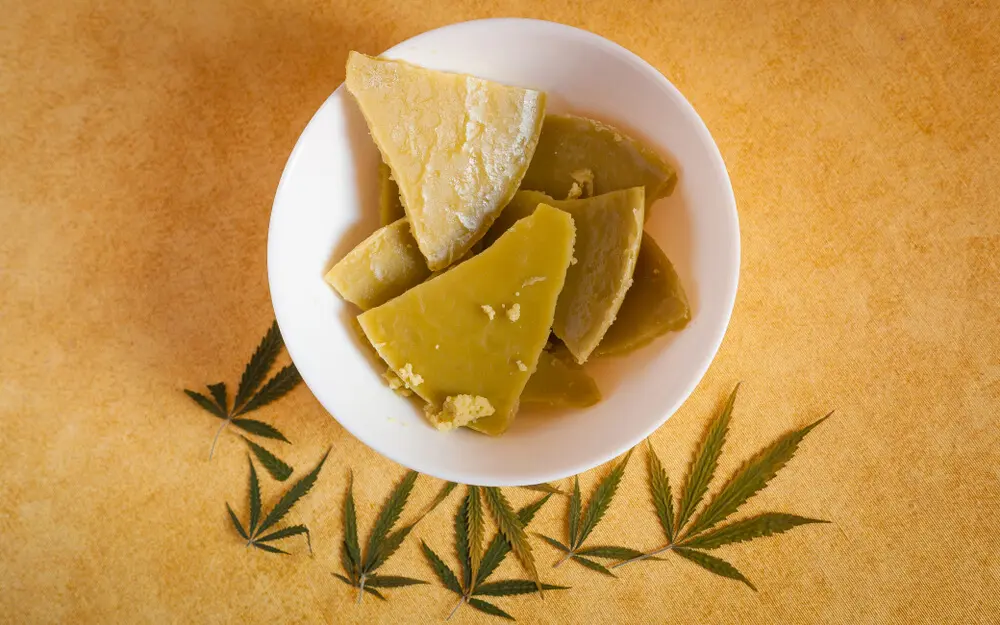 One of the basic things that are very useful in the weed recipes is cannabutter. Especially in some sweets, like cakes, cookies, and pies. One should note here that when you did it you will be able to use it for several recipes because it is not necessary to replace all the normal butter with our special. If you want to know how it works, so here is the answer: cannabinoids from the weed attached with the fat and after some time they already become one. We hope you will be pleasantly surprised when you find out how many options do you have with using this cannabutter! Good thing is that for making weed butter you don't need to buy some special marijuana, all the options will be perfect and it is better to use saving weeds residue for butter.
How and where to keep it?
Good thing is that you can also freeze weed butter it could be suitable for 6 months in that way. Another method of storing is just to keep it in the fridge in a paper or a crystal form. In that way it will be useful during several weeks. Be careful with other smells: butter can easily absorb all the aromas which will be around.
Flavor it!
It is also possible to flavor your cannabutter with sweet things such as orange, lemons or apples and make it sweet with sugar or coconut powder. On the other hand, to make it spicy it is possible to add for example garlic, thyme, basil, chili powder, pepper, hot sauce. Imagine, how many interesting and tasty things you can do with this product!
So, how to make easy marijuana butter?
Ingredients:

Directions:

7-10 grams of cannabis (already decarboxylate)

You need to mix 1 cup of the butter and 1 cup of the water (we use it to prevent the butter from the scorching).
Then grind the cannabis with a grinder.
When butter melted, add the cannabis into it.
Put the temperature around 70°С and let butter and cannabis mixed during 2 or 3 hours.
Strain the cannabutter through the cheesecloth and put it into the fridge.
In 1 hour check if there is some water still and take it out.
Dosage
Be careful with the dosage: of course, you don't need to use everything for one cake just try to add ¼ or ½  of a teaspoon and after eating one portion to see in 1 hour how do you feel.